Online Betting for beginners
Contents
How to register an account
How to upload FICA
Deposit Funds
How to select teams
How to place a bet
Creating an accumulator
Changing markets
Withdraw Winnings
How to Win
To start betting online you first need to register for an online betting account. To do so click Betway, this link will direct you Betway registration panel as shown below.
If you follow along this registration process till the end, you will receive a R25 free bet from Betway before you even deposit
Fill in your details, Phone number, Password, Name & Surname, your email address (Learn how to create a gmail account if you don't have one) and then click the next button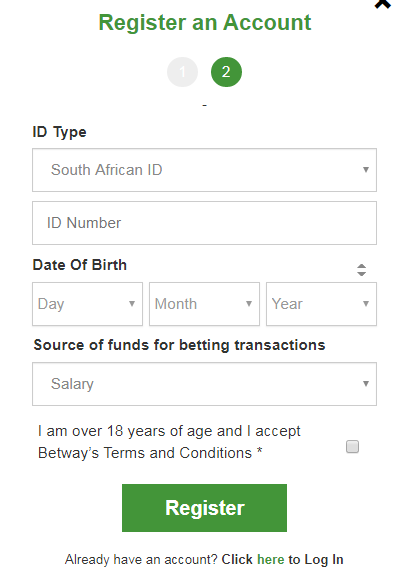 Submit your ID number, If you are a foreigner Choose Passport No. and enter your passport number. Enter your date of birth and choose source of income then click Register,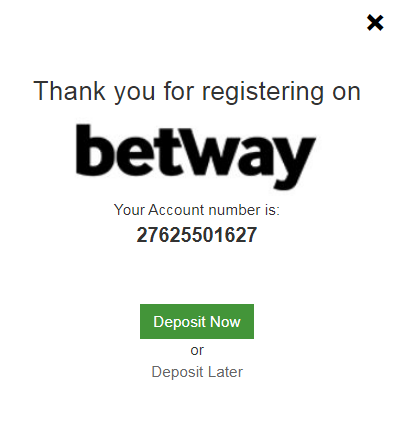 You have completed your registration process. Now choose deposit later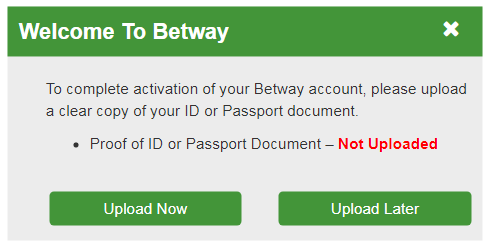 This window will popup, which you need to verify your account by submitting your personal documents like ID, Passport or driver's Licence. This is required by the Government of South Africa. They call it FICA (learn more about FICA here) Select upload now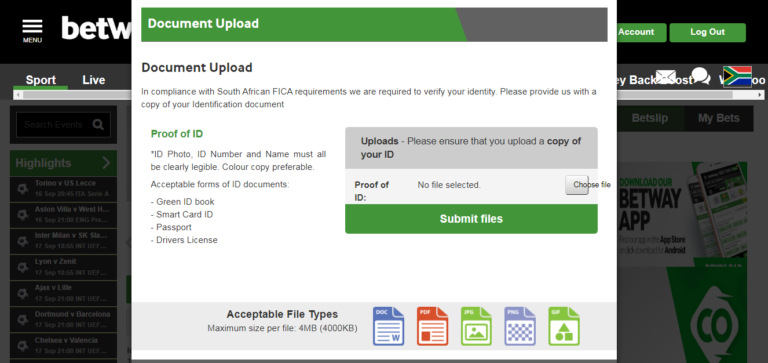 This window will show up. its time to upload your documents. You can scan your documents into PDF or JPEG, or use your smartphone camera to capture your documents and make sure their are clear enough. Click choose file and select your documents from your phone or computer and then click submit files.
The other way to verify your account is to send them your documents to [email protected]
within 24 hours you will get notified if your verification was succesful.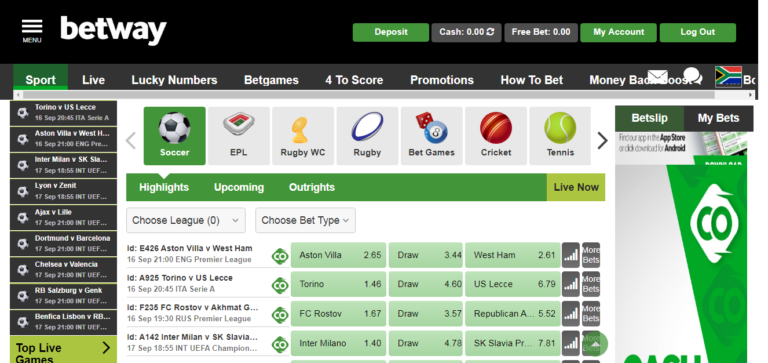 This is betway home screen, super clean and user friendly. It might look different to your device but the functionality is the same. 
Click deposit button at the top of the screen. the deposit window will popup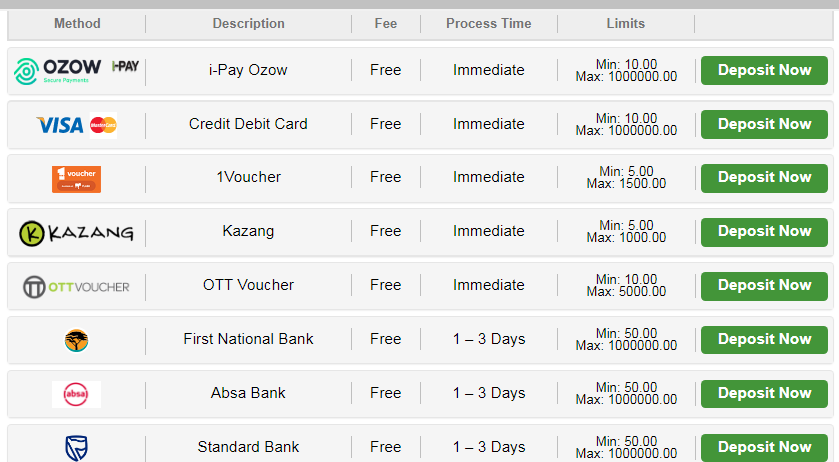 There are many ways you could use to deposit funds into your Betway account. I recommend the first three OZOW I-PAY, VISA CARD or 1 VOUCHER.
OZOW IPAY let you transfer your funds into your Betway account immediate using your bank account. Select deposit now and this window will pop up


Enter the amount you need to transfer from your bank account. Minimum is R10. Click Proceed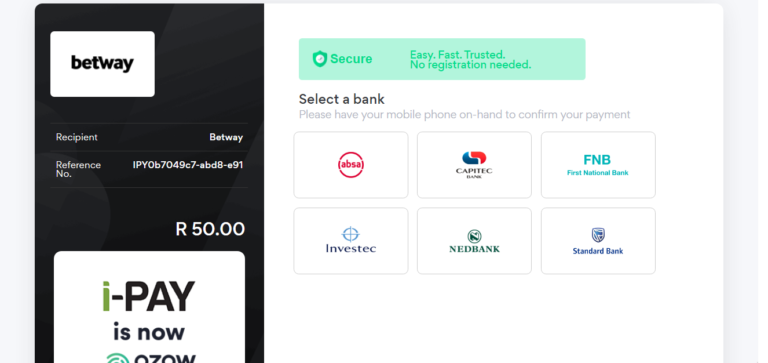 This window will show up. choose your bank and it will require you to enter your bank details. After some minutes your deposit amount will be credited to your Betway account.
If you dont like to deduct money from your bank you could use one voucher. Go back to Betway home page and click deposit, Select 1VOUCHER deposit method. this window will popup. Enter your voucher code and click redeem. You are done

Depositing with mastercard is instant. Select VISA/Mastercard as depositing method and select amount and enter your card details and you are done
To place a bet you have to choose the market that you want. There is Soccer, Tennis, Rugby, Basketball, Cricket etc. for this guide we will choose soccer, which is the default selection. See picture below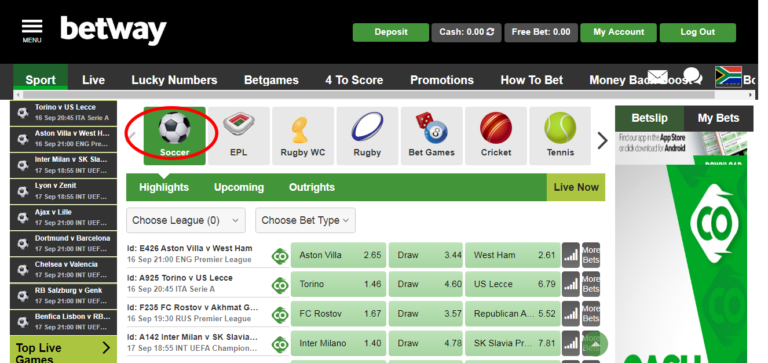 For this example we want to bet for Manchester United. I go to the tab where it says choose league, I know Manchester United is an England team and it plays in the Premier League. In the drop down menu i choose England then tick premier league and click update. This will show up all upcoming premier league games. See picture below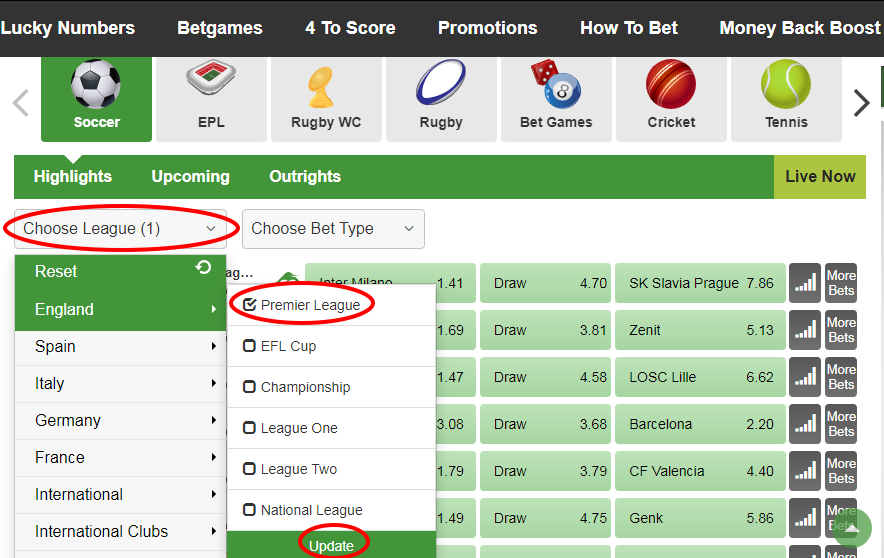 Now i just click on top of Manchester United, Ticket pop up will show in the right side of the screen, showing my bet amount (stake) and the payout below. See picture below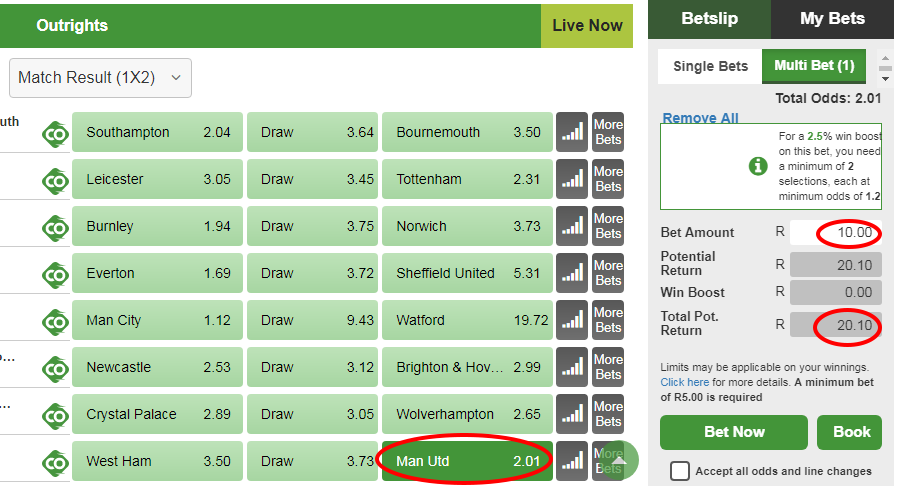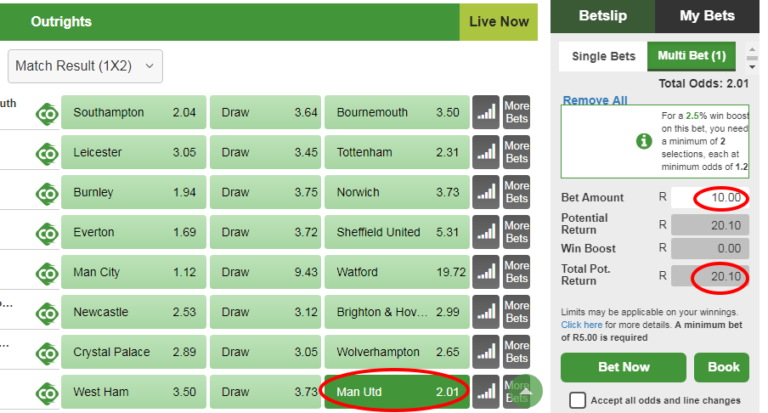 The ticket above shows that if i bet R10 i get R20 in return. When i am i satisfied i click Bet now.
If you want to risk small amount money and get bigger payout you would need to bet accumulators. By doing that you combine multiple teams, to win this bet all your selections must come correct. Losing by one team your ticket is dead. See picture bellow on how to bet accumulators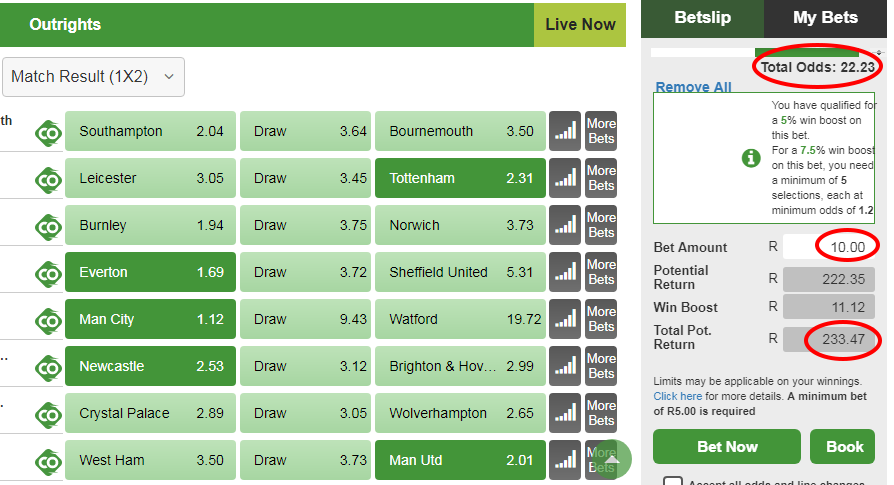 Betting for other markets
In sports betting there are some other betting markets besides win/drawwin. You Can bet for BTTS which means Both Teams will score, Goals totals, Double Chance, Corners etc. to do so you have two options. See picture below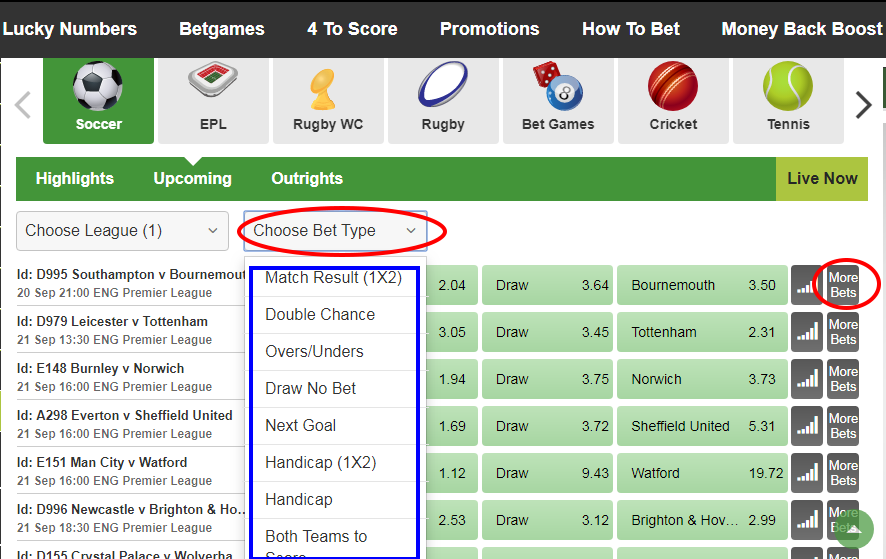 Option 1. Click Choose bet type, it will show a drop down menu with different betting markets. 
Option 2. Click more bets, it will expand and list all the available markets.
We all join betting to make money, but then it becomes the opposite, we lose money. 
The main reason why we lose is that we want to make fortunes with low stakes, thats aiming to win R10 000 with only R10. Yes its possible if you are lucky, 
When you are new to betting start by wagering R10 just to win atleast R30, once you understand all the good strategies increase the stake and aim to make more.
Checking head to head, team form , line up, teams news and injuries is the key to longterm success.
Accepting lose is part of success, dont expect to win on every ticket you bet, try to be disciplined by not letting your emotions drives you
Finally. I recommend you like our page. we give daily safe bets direct on Facebook for free, Send message to our FB page saying *safe bet* you will get tips that are highly researched with high possibility of winning.
To withdraw winnings. Go to my account and select withdraw funds

Choose EFT method and select Withdraw now. enter all your bank details and click Withdraw now 
It will take 1 – 2 business days for your winnings to reflect in you Bank account (weekends not counted)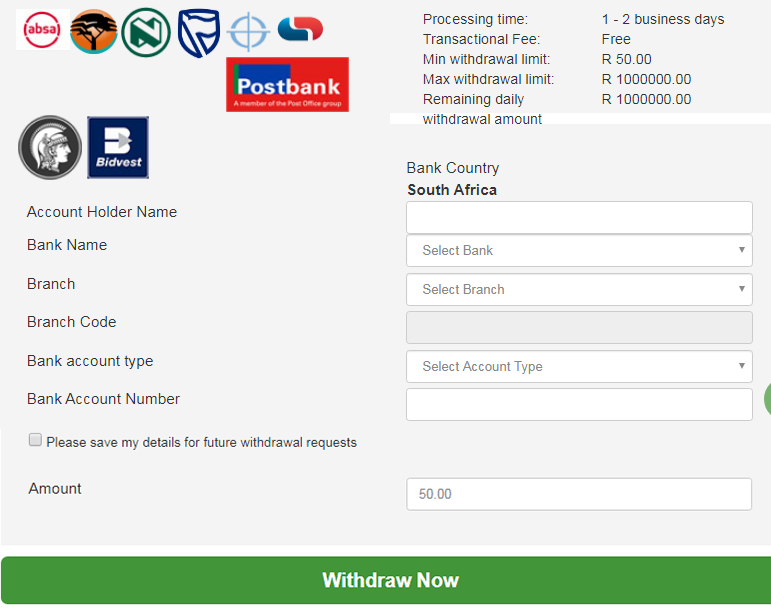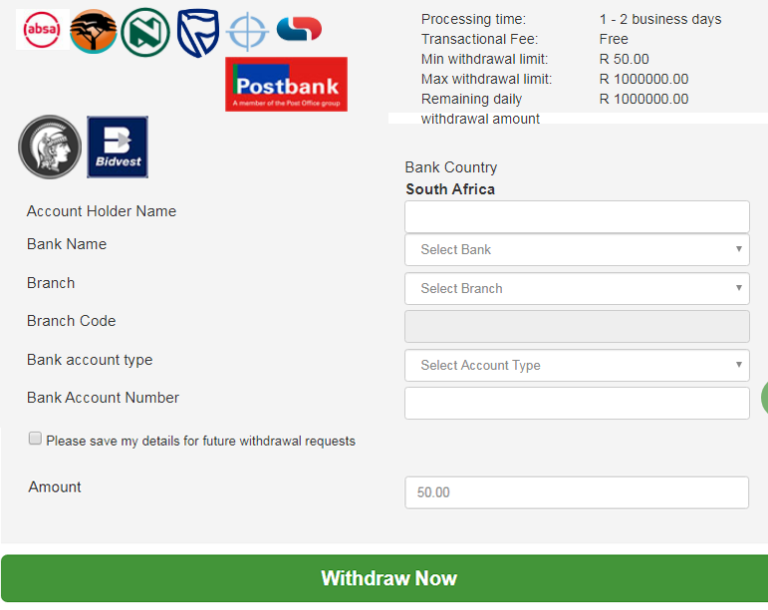 Now that you know know how to bet, check out these betting strategies.