HOME NO BET / AWAY NO BET EXPLANATION & STRATEGY
Home No Bet market is like draw no bet, but it removes the outcome of a Home Team Win on three-way markets (1×2), allowing bettors to bet on either a draw or away win. This article explains what Home No Bet is, and gives example bets.
Home No Bet isn't much popular as some other bet sites do not offer this type of market. if we look among many Soccer leagues around the world its either HOME TEAM or AWAY TEAM win the game and the probability of a draw is less, around 25% games end as a draw, Smart Punters have noticed that.
The Home No Bet is a way for punters to reduce the probability of a losing bet and can be used to:
Back an underdog, with the security If the favourite win the game
How to bet on HOME NO BET market
Betting on Home No Bet market is very simple. Let's say you want to bet on Ajax (underdog) to win against Juventus (Favourite) in their Champions League game. You believe Ajax can win this match but at the same time you know that Juventus is a big club it may have chances of winning this game, chances of a draw are slim. Then you back Ajax to win with no risk if Juventus go ahead and win  the game, leaving risk at the match ending as a draw.
If you place a R1000 bet on Ajax to win on the Home No Bet market at odds of 2.14 your profit would be:
What is AWAY NO BET market?
Is the opposite of Home no Bet. you get back your stake if Away team win, leaving you  to bet on either a draw or Home win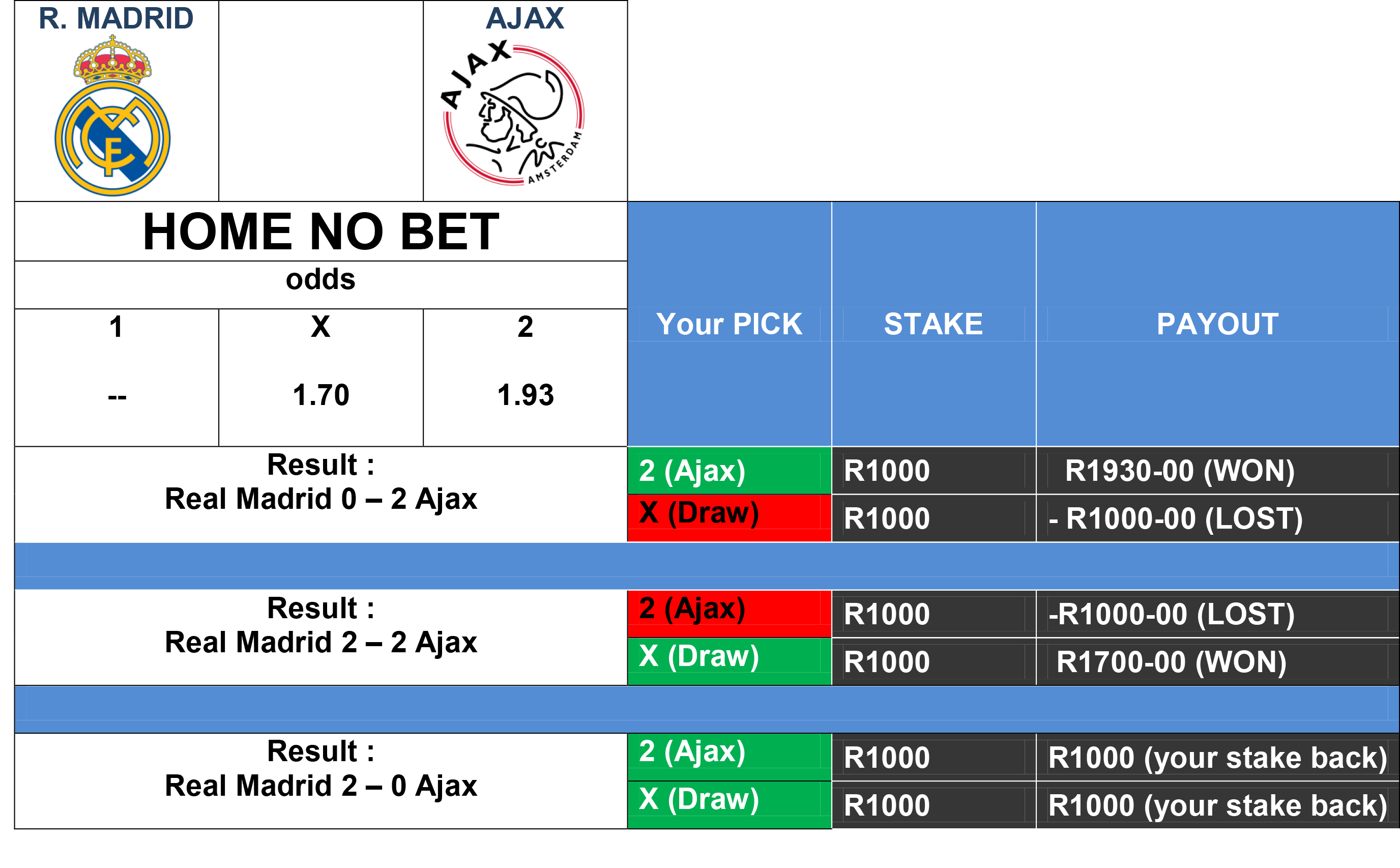 HOW TO PROFIT IN HOME NO BET
BETTING STRATEGY | PRACTICAL EXAMPLES
Having a good strategy is key to being a successful bettor!

Look for value and loopholes 

look for high scoring clubs 

football is full of surprises (go for your heart with little safety)
Lets look on a match Real Madrid v Ajax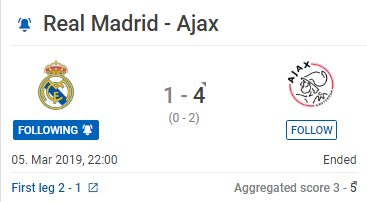 These two giant teams are competing on their Champions League Quarter finals, Real Madrid is the clear favourite according to odds and they are playing at home, While Ajax are the underdogs. Looking at the current form of Ajax this season, previously drawing with Bayern in a 3 – 3 thriller in group stages, it shows this team might stand a chance in Real Madrid. And again on the other side, Real Madrid is a big club and the previous title holders, the market believe they might want to fight to the next stages of Champions league, but they have been playing poorly in its previous games after the Departure of Coach Zidane and their all time top goal scorer Christiano Ronaldo.
The basic principle is, we are looking for two teams which are both aiming to win but with the underdog having more chances of winning, and what we want to avoid at all times is the draw,so that is why we picked the high scoring teams.
we would back Ajax win with (R1000.00) _ Home no bet at odds 1.93
TIPS
look for scoring teams

look for value, at least odds of above 1.70,     2.00+ recommended

Also consider cashout later in the game if the underdog is leading by 1 goal margin, as the favourites tends to score late goals fighting for a draw